Greeting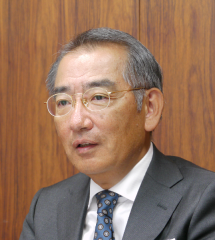 President and CEO
Hiroshi Horikawa
Fukusuke Corporation started running sushi and Japanese restaurants when Tsukuken Shoten (founded in 1916), which was an intermediary wholesaler in Tsukiji Market, opened Uogashi Chokuei Fukusuke in May 1960 near the old Yomiuri Shimbun Building in Ginza 2 Chome.
Back then, many people felt uncomfortable going to sushi restaurants because it had an elitist atmosphere, where the price wasn't clear and many sushi chefs were arrogant. Therefore, Fukusuke decided to always work under the following three principles:
1.A transparent billing practice in which the price is available beforehand.
Fukusuke became the talk of the town for its ¥30 sushi offered in its restaurant, which opened in 1969 on the second basement level of the Toshiba Building. Fukusuke Sushi doesn't offer the same price for every sushi anymore, but the price of each sushi is always available beforehand.
2.Take advantage of being an intermediary wholesaler to provide fresh and diverse ingredients and dishes.
As the restaurants are run by an intermediary wholesaler of seafood, all seafood is provided fresh and the options are diverse. We are also very particular about where the seafood is caught. This is so we can always respond to our customers confidently and in detail whenever we are asked, "What's today's recommendation?" For example, we might tell you that the kinmedai fish from Katsuura is especially delicious today. We are also very passionate and curious about trying new methods and ingredients while protecting the traditions of Edo-style sushi.
3.Treat all customers equally.
Fukusuke and Horikawa sushi chefs politely refuse special favors from their customers. This is because we cherish both loyal customers and new customers. Also, we provide low chairs so that women, elderly, and children can comfortably enjoy their meal. We are always thinking about how to make our restaurants the most comfortable for our customers.
Since the opening of our first restaurant, the three principals have been adhered to and passed on to each staff member and restaurant.
After opening our first restaurant, our restaurants spread to hotels, department stores, and the US during Japan's rapid economic growth. Now, times have changed, and our customers seek utmost quality. Great services and hospitality and transparent billing systems have become commonplace in the restaurant industry.
In these circumstances, the founder handed the management of Fukusuke to me. My belief has always been that the three principles must be further consolidated for the Fukusuke and Horikawa restaurant chain to be a part of current society. As a result, I concluded that there were too many restaurants for us to consolidate the three principles and to protect the smiles of our customers and staff.
After long deliberation, I decided to close the older restaurants. This involves saying farewell to part-time staff and some of our customers. Closing restaurants is always harder than opening them. But the pain I experienced propelled me forward to prepare for the next steps. I hope to open new stores primarily around the Greater Tokyo Area.
I promise my customers that Fukusuke and Horikawa restaurants will always be a relaxing place where you can expect reliable services and warm hospitality. We will continue to provide great services and dishes so that our customers can always say, "I'm glad I came to Fukusuke," or, "Coming to Horikawa was the right decision."
Japanese cuisine was registered as an Intangible Cultural Heritage in 2013, and the Tokyo Olympics and Paralympics will be held in 2020. We will continue to offer tempura, Japanese cuisine, and teppanyaki, which are classic Japanese dishes, through our high-quality services.
I would like to thank all our customers and staff for their warm support, and I extend a warm welcome to future customers of Fukusuke and Horikawa restaurants.